I love this time of year, the days are getting brighter and the Spring collection of girls baby clothes are just starting to come out! I've already seen some fab little pieces which I'll be blogging about shortly!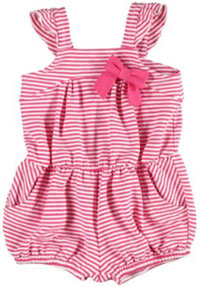 Now this Mayoral striped jumpsuit has got to be the cutest jumpsuit I have ever seen!  It's just lovely!!!  Your little one will be more than happy to run about in the garden in this.
It has coral and white stripes and is finished off with an adorable coral bow.  Made from 95% Cotton and 5% Elastane it is very comfortable and a bargain too at £16.99.

I could do with one if these for the summer myself although I think I might get some funny looks!