Inch Blue shoes are very, very cute and one of my top favourite baby shoe brands at the moment!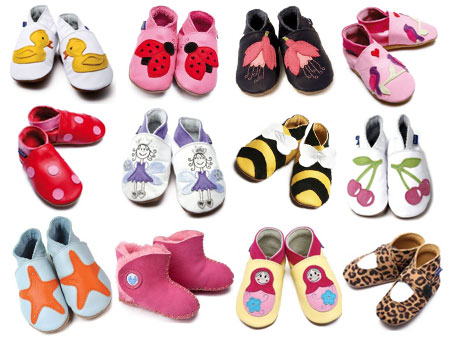 Inch Blue shoes are the next best thing to bare feet and there are lots of lovely patterns and designs to choose from.
These fab little shoes are made for indoor use or for travelling i.e. in the car or buggy.  They're stretchy and really comfortable for growing feet and are made from breathable soft natural leather which will mold to your babies feet.
Their non-slip soles make them ideal for tiles or wooden floors and their elasticated ankles make them easy to take on or off.  Hand made in the UK, they are also endorsed by a top chiropodist and reflexologist so rest assured that these shoes are perfect for your baby.
These little lovelies are also available for toddlers and children up to age 4 making them ideal for nursery use too.
You can buy these shoes straight from Inch Blue themselves or from UK suppliers, try The MerryGoRound or Vanilla Bloom.