Joules Clothing is now a multi-million pound internationally known clothing brand with its own distinctive style. It is hard to believe that this empire was founded on something as simple and functional as Wellington boots but that is exactly what happened.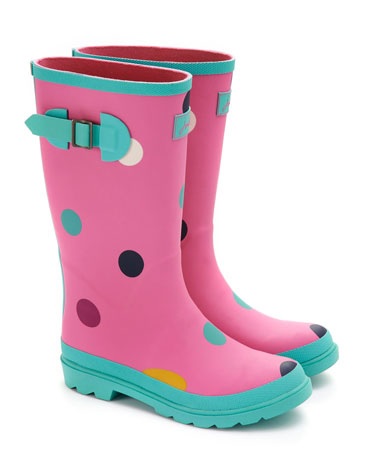 Early Days
Tom Joules worked with his father in the 1990's selling various brands of country clothing at fairs and equestrian events around England. Country clothing at the time was durable and practical but lacked character and colour and the young Tom felt that the mundane nature of the clothing did not match the vibrant characters of the country folk he served. He decided to launch on an experiment and produced 100 pairs of pink wellies to sell at the shows and the boots were an instant hit.
Investment
Tom Joules then purchased an 80% stake in his father's company in 1999 and a year later they began selling the Joules brand around the nation. All was going well until a huge potential set-back arrived in the shape of foot and mouth disease. The outbreak in 2001 shut down the events at which Joules were marketing their wares at a time when Tom had just re-mortgaged his home to raise money for a large stock order. This could have been a terminal event for the company but the enterprising Tom then offered his clothes to retail outlets which were only too keen to add them to their ranges and the brand then rapidly expanded into a £50 million organisation. Joules now sells their collections through over 600 retailers, their own website and a string of Joules shops across the country.
The Clothes
The Joules collections are durable and practical clothes for country living but with a funky twist that is appealing to all. Bright and colourful, the designs are influenced by country life and the British coastline. Outdoor staples have been enhanced with a dash of colour, printed linings and modern design and the range now includes adult daywear, swimwear, children's wear and, of course, funky wellington boots! If you are looking for some gorgeous clothes for babies and small children the quirky designs, animal characters and nautical flavours will really appeal and the prices are very reasonable too! Joules clothing is fun and funky but durable enough to cope with everything your kids can visit on it!
Strength to Strength
A brand that started with pink wellies has become an internationally acclaimed collection. You can still grab a great pair of Wellingtons for your kids but today Joules clothing is about so much more. With cute animals, fairground imagery and nautical themes your kids will love the clothing and you will cherish both the style and the price!
To see the Joules spring summer 2013 collection click here
Byline
Article by Sally Stacey