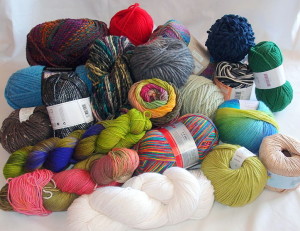 Knitting has seen a large upsurge in popularity in recent years with a surprising number of young people taking up the craft. Many knitters are fashioning gorgeous and unique baby clothes as an alternative to high street offerings but many such garments are made using acrylic yarns which are machine washable and inexpensive. There is no arguing with the convenience and economics of these yarns but there are some significant benefits to using wool which should be considered before rushing for the man-made fibres.
The Benefits of Wool
It may sound obvious but the primary function of wool is to insulate sheep from the elements and that is a big clue to a major advantage of using wool. This incredible natural fibre is excellent insulation and quite brilliant at regulating body temperature keeping baby comfortable in all conditions. Wool also draws moisture away from the skin in a process called wicking and is highly absorbent unlike many acrylic fibres. Wool remains warm when damp an ideal quality for both sheep and babies! Just as wool absorbs moisture it also absorbs odours which are stored and released during washing. Research studies have shown that babies sleep longer, cry less and gain weight faster if they sleep in or on natural wool. Would you believe that wool can also have healing properties? The fibres actually contain lanolin which is an anti-bacterial agent.
Cleaning
Man-made fibres are machine washable making them popular with busy people but many woollen products can be machine washed too. It should also be considered that amazingly wool needs to be cleaned less often because the tiny scales in the fibres rub together dispelling dirt. Yes wool is self-cleaning! Wool creates very little static which also helps it attract less dirt particles.
The Best Yarns
Merino wool is the basis of many of the best yarns for baby clothes like Sublime Extra Fine because this variety has smaller fibres than other wools giving the yarns an amazingly soft feel. Merino wool also possesses an excellent warmth- to-weight ratio compared to many varieties. The small fibres make this wool perfect for blending with other natural fibres like silk and cashmere as with some brands of wool, to create ultra-soft luxurious yarns. Merino wool is very elastic helping garments to shape to the body, making them more comfortable to wear and requiring less ironing than garments made with other yarns. Your baby will also be safe wearing Merino wool as it is naturally fire retardant, does not melt and extinguishes itself when a flame is removed from contact.
Eco-friendly
It should also be noted that wool is an environmentally friendly choice as it is a natural, renewable resource. Many yarns are produced using natural dyes which do not leech into the water table and pollute the environment and do not present a health risk to the workers producing the yarns.
What Are You Waiting For?
It would seem that there are so many advantages to using wool and specifically Merino wool for baby clothes that it is a wonder anyone ever uses anything else! If you haven't tried Merino wool give this wonderful yarn a go and you won't be disappointed.
Byline
Article by Sally Stacey